Min weekend kan meget let opsummeres: Eksamenslæsning. Der er ca. en milliard ting, som jeg hellere ville have lavet, men min første eksamen ud af fire er på torsdag, så der var ikke rigtig noget valg.
Der har dog været nogle lyspunkter i denne weekend:
1) Mine nye Zara ruskindsstøvler med kilehæl kom med posten ( Tak til søde
Acie
for hjælpen)
2) Ligeså gjorde mine Fasionology armbånd
3) Jeg kom først midt på eftermiddagen i dag i tanke om, at det var 2. søndag i advent i dag, og at jeg havde en adventspakke liggende fra mine forældre. Topgod gave: Twilight DVD. I love it. Den bliver dog først pakket op om nogle dage ellers ender det vist med, at jeg ser den i stedet for at læse.
Heldigvis kan man godt shoppe, selvom man sidder som fange i eget hjem. ;) Så har hapset lidt halskæder på eBay og noget af den fine Sonia Rykiel for H&M kollektion. Jeg har købt det stribede sæt, lidt hipsters og også de to bodyer (regner dog kun med at beholde den ene). Jeg kan ikke helt finde ud af den body, men nu må den prøves, og så må jeg se om jeg kan få den til at fungere.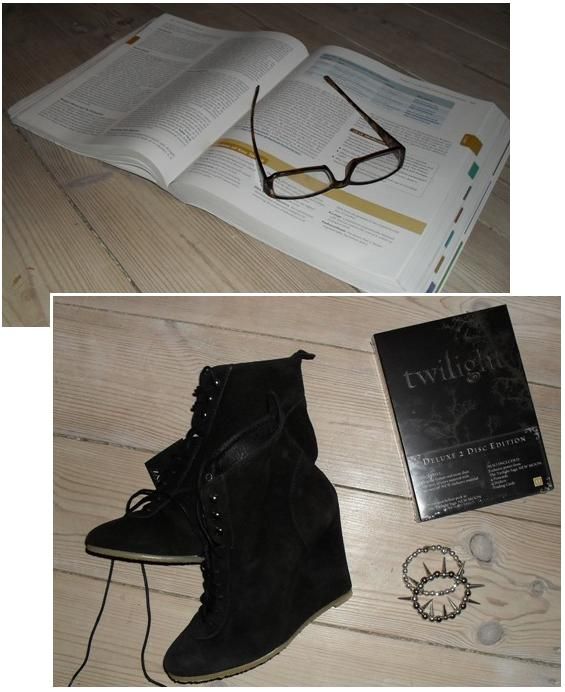 I've been studying all weekend, but I got a new pair of Zara boots, new bracelets and the first twilight movie this weekend.