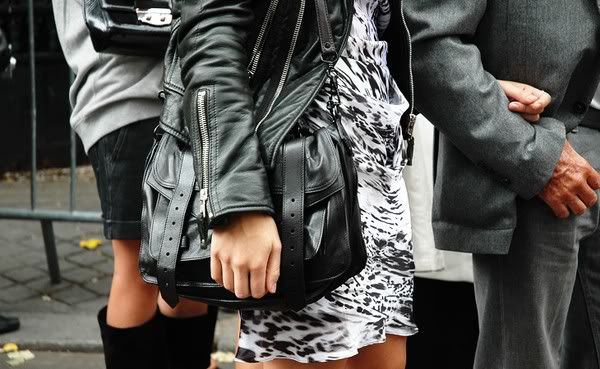 Jeg er pt. ret misundelig på alle, der har en sort PS1, jeg overvejer selv, om jeg skal have en mere, enten sort, smoke eller tobacco. Den tobacco skulle være i ruskind, mens de andre skulle være i læder. Jeg var ved at snuppe en XL på udsalg for et par uger siden, men farven var bare ikke helt rigtig, så jeg sad over i den omgang. Jeg er desuden også røv-misundelig på hendes labre Balenciaga skindjakke, jeg har savlet i flere måneder i trådene på The Purse Forum om jakken. Desværre er den version, jeg helst ville have, fra sidste sæson, så den er long gone. Dammit.
Jeg har smidt et par sager på salgsbloggen, find dem
her
.
I'm jealous of everyone with a black PS1 at the moment, I'm considering getting another one myself. It should be either black, smoke or tobacco. The tobacco should be in suede. I almost bought an XL in khaki on sale two weeks ago, but the color wasn't just right, so I passed. I'm also very jealous of her gorgeous Balenciaga leather jacket, but the color I wanted is from last season, so it's a long shot for me.